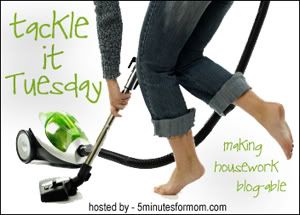 Yesterday I tackled the front porch. I didn't take before pictures, but take my word for it, it was bad! We started the morning off with a trip to the Salvation Army to donate the lawn sale leftovers. The only reason it didn't happen the Monday after the sale was because my Mom had promised some stuff to a cat shelter yard sale. Well that fell through, so off it all went.
Once we got back I took EVERYTHING off the porch. All the furniture and decor items. Then I got out the shop vac and swept the porch. It really did need this, all the cracks and crevices had dirt in them and the broom just wasn't able to get it out. I must have looked like a nut, but it worked!
I started to arrange the furniture, my goal was a cozy sitting area, I think I achieved it.
While I was doing this, hubby was firming up the bentwood rockers I have been acquiring at yard sales for the last 8 years! I had 4 but one was beyond repair. Now I have to make cushions for the seats and they will be done.
I bought the massive hanging plant at our local green house when they went on sale. It isn't big enough to hide our tenants truck but I think with the screen and my antique copper fire extinguisher it makes a nice view!
Check out other tackles at
5 Minutes for Mom