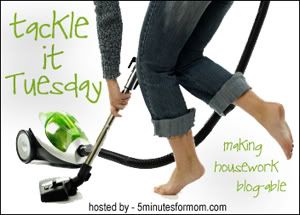 I am tackling a few things right now!
~ My desk, the pile is stuff, but it is in file folders!
1. Coupons
2. Resumes
3. To be filed
4. Mail
The rest is mostly cleared off! WooohooO!
~ The house
1. We inherited my parents hot tub, so this week has been all about cleaning it, setting it up, filling it, only to find it needs a part we have to have shipped.... Hurry up and wait, I just love it!
2. I have a home inspection today with social services. The kids I babysit for are "funded" so I had to set up a "daycare" account. They are just coming to make sure I have a "safe" environment.
3. Laundry - mostly putting it away, I really need to stop being bad at that part of it. I don't mind the washing & drying...
4. Surfaces - I know they are evil, but nothing is sacred here, not even chairs or the couch. If it's flat they will put something on it!
~Hamster cages
We lost Mater to a prison escape last month, this week we lost Princess to an unknown illness we have given her a proper burial. But now I have 3 empty hamster cages to deal with. Think I'll just put them in the basement until we are ready for new ones. Maybe the chipmunks can use them as condos.
~Lists
We have recently made a HUGE decision to sell this house in 3 years and buy my parents. They are building a new house on property they own. I have a feeling that I will spend the next 3 years finding ways to fix up this house without spending much money & convincing my Mom to let me take down the blue wallpaper on her dime LOL! We are already working together on a new exterior paint scheme. Of course I will be the one painting! Oh yea & the carpet in the kitchen HAS to go!
I start an out of the home job on Monday! It's part time office help, at a non-profit organization. It's flexible, I get to do all the stuff I like in an office setting & I get paid for it!
So my lists are all the things I have to get done in the next week, and all the things the house NEEDS in the next 3 years! It really could be 2 years, but we've also thought about not selling this house & keeping it as rental property. It also depends on how fast my Parents new house gets built. It's a DIY job, so it won't be up in 2 weeks! But they have already started hard core acquiring of lumber.
~Football practice
~Cleaning out the freezers & fridge this week, mostly to avoid shopping, but also because there is all kinds of weird stuff in there!
It's going to be a busy week here at the Money Pit. You can check out other great tackles at
5 Minutes for Mom
.
Stumble It!