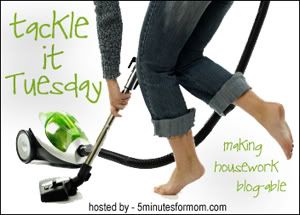 I decided to use the CLR tackle to clean my kids bathtub, it had been ignored for a while. Despite a quick scrub after a bath or shower, it hadn't been deep cleaned in a while. Say hello to the soap scum...
This is the rust stain I was hoping to remove.
It didn't go away, but the rest of the tub is now scum free! This tub & surround are textured & clearly not installed by someone with small children! It is next to impossible to get is to LOOK clean. Everything stains it & it's terribly discolored. I can hope right!
Since it didn't do a fantastic "on camera" job in my bathroom I decided to let the CLR do it's thing on my daughters kitchen.
She decided that it should be used for real cooking, ewww. After removing the electronic "Stove" part I sprayed it down with CLR, let is sit for 3 minutes. I wiped the goo off with a damp towel!
It's as clean as the day we bought it, now I have to take apart the electronics and clean them. Gross!
I'm not sure why things are manufactured with small grooves & holes that allow play sand or baking sprinkles to get stuck down in them... I really should be a toy tester, my kids find the oddest uses & destruction methods!!!
Check out the other
CLR Tackles
.
lso on the list for today...
Items I am also doing from
Homemaker Barbi's
99 Ways to get ready for winter checklist.
16. Freeze fresh vegetables, fruits, and berries that will not be canned.
We are putting up applesauce & grape juice, that's my 2nd tackle for tomorrow.
18. Declutter kids' toys to make room for holiday presents. Donate extras or pack away.
19. Declutter kids' closets to make room for holiday gifts of clothing. Donate extras or pack away.
31. Move board games, card games, trivia and flash cards, and family story books to a convenient location, such as a bookcase in the family room. You'll be spending a lot of family time indoors this winter; make sure the main focus isn't television!
34. Get out winter blankets and flannel sheets. Add wool blankets, comforters and quilts to beds for use on cold winter nights. The more insulation you can pack around a person at bedtime, the more body heat they will retain. And a higher body temperature means you can lower the thermostat a few degrees at bedtime, saving hard earned money on heating bills.
37. Have a series of family fire drills in case a real fire evacuation is needed later. Visit US Fire Administration for Kids for fire safety information.
39. Pack away indoor fans.
41. Stock candles and matches in convenient (but childproof) locations throughout the house for use in prolonged power outages.
52. Seal up window and wall air conditioners. Certain styles will be able to be covered with a winter cover; check your local hardware store for details.
58. Put up storm windows.
Almost finished!!!
78. Lay out large bath towels across the floor in the back seat of the car. Kids' snowy boots will melt off their ice, snow and dirt onto towels that can be thrown in the washer periodically, not onto your car's carpet.
83. Put an ice scraper and snow brush in
84. Make sure there are jumper cables in your trunk. Winter can be hard on car batteries, and you never know when you ((or someone else) will need a jump start.
85. Pack a winter emergency car kit and put it in the trunk / cargo space.
89. Ask kids and relatives to start working on their Christmas wish lists. The sooner you get ideas about what they're hoping for, the sooner you can start watching for sales that take place before the holiday shopping rush.
Stumble It!